Character rendering
https://api.bmsite.net/char/render?race=fy&gender=m
https://api.bmsite.net/char/render/:type/:width?race=fy&gender=m
This will allow to render character with items (no particle effects)

If no type is selected and 3d rendering fails, then HTTP status code 203 with 2d rendered images will be returned.

Optional parameters:
:type - either 2d or 3d, if rendering fails, then there is no fallback.


https://api.bmsite.net/char/render/2d?race=fy&gender=m

:width - final output width (ratio is kept). Available sizes are 64, 80, 120, 180, 240, 300 (default)


https://api.bmsite.net/char/render/64?race=fy&gender=m
Avatar appearance
race - fy (fyros), ma (matis), tr (tryker), zo (zorai)
gender - m (male), f (female)
age - number 0 (young), 1, 2 (old)
eyes - eyes color
hair - hair index and color,

(hair=index/color)

tattoo - facial tattoo
gabarit - body attributes, 5 comma separated numbers (

height, torso, arms, legs, breast

)
morph - head attributes, 7 comma separated numbers (

morph target 1 to 8

)
dir - direction character is facing in 45degree increments, where 0 (front, default), 90 (right), 180 (back), 270 (left)
zoom - either body, face, portrait

body

- normal, 300x600 image

face

- zoom on head, crop to 300x300 image

portrait

- zoom on head, no crop, 300x600 image

Face and portrait images on 2d mode is upscaled from full armor images.
Armor, contains sheetid and item color (eg, chest=iczalv_3.sitem/1)
head - helmet
chest - vest
arms - sleeves
hands - gloves
feet - boots
legs - pants
Items, contains sheetid (eg, handl=icmm1ss_2.sitem)
handl - item in left hand (weapon)
handr - item in right hand, (shield, dagger)
If requested item or haircut is not found (or possibly can't be used by race), then default item is used instead.
Advanced parameters
Normal parameters will override these.
vpa - SPropVisualA
vpb - SPropVisualB
vpc - SPropVisualC
Rendering service code is available on github (php client, c++ server).
Examples
2d rendered image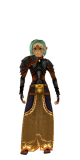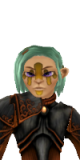 3d rendered image (45deg angle)